Services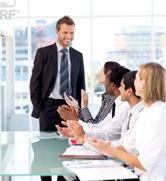 Each of our clients is unique. That is why we specialize in devising and implementing solutions that best meet our clients' needs.
We listen. No one knows your business better than you. You need a team which can rapidly digest information about your current operations and future goals, and get you from point A to point B. RiTek is that team. Whether you need to reengineer business processes, implement new technologies, jumpstart a stalled project, or measure performance to target improvements, we can make it happen.
We devise. RiTek possesses the in-house expertise required to architect a solution that meets your business goals. From our business analysts to our technical consultants, we can provide and execute a seamless plan of action from initial analysis through implementation.
We act. RiTek excels at delivering the overall solution rapidly by executing or assisting with all steps and all iterations of the solution. If it's a data warehousing solution that you require, we will architect, design and develop all aspects of the data warehousing solution, from determining the data warehouse model to data acquisition, extraction, transformation and loading (ETL), through presentation of analytics. Whatever your needs may be, we can assist; our expertise has been proven through the successful implementation and delivery of custom software solutions in diverse industries, including manufacturing, retail, financial, education and entertainment.
On every project we execute, we are mindful that our success is based on aligning your business operations with your goals. We accept that challenge.
Our Services include but are not limited to:
Professional Services
Turn Key Solutions
Software as a Service/Subscription
Offshore/Offsite/Onsite Hosting & IT Services
Business Application/Software Development
Strategic Business Intelligence Services
NeuralMiner™ for Analytics